Sash Window Refurbishment to the Highest Standards
Sash Heritage Restoration are a locally-renowned company that have specialised in the repair and replacement of wooden sash windows for many years. We can offer a custom range of services to suit your individual property and refurbish your sash window frames to their intended glory. These services include draught-proofing, restoration to your original timber frames, smaller repairs to your ironmongery and locks, in addition to painting and decorating your sash window frames. We are experts in older timber restoration, using sanding and preparation techniques at a level of quality craftsmanship unsurpassed in the Sussex area.
Sash Heritage Restoration are a UK-nationally recognised Trusted Trader and Which Trusted trader. Our unrivalled reputation means that we are often contacted to undertake extensive repairs and restorations to sash windows on many Heritage properties and conserved grades 1 and 2-listed buildings across the Sussex area. This demonstrates a high level of trust between our customers and our experienced team of sash window specialists. We have been making exquisite repairs to Georgian, Edwardian and Victorian sash and case windows for many years, and we consider ourselves true experts at every step of the restoration process.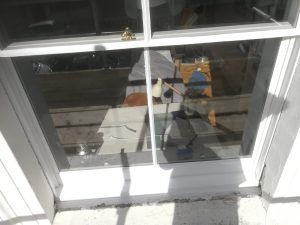 Sash Windows and Repairs
The multi-skilled team at Sash Heritage Restoration have gained a large amount of experience in working alongside the local authorities and councils with regards to planning. Listed Buildings are often protected and conserved via these planning departments and as a result, we can advise you on any questions you may have about how to comply with your listed building's current legislation while maintaining the highest possible standards throughout any work undertaken. Our team are most familiar with the kinds of regulations that prevent certain materials or adaptations being made to grade-listed properties around the UK and more specifically, the local Sussex area.
Sash Heritage Restoration work extremely hard to ensure that your property is well cared for and kept clean and tidy throughout our working day. The team are always able to advise you on each step of the restoration process and take pride in their work, from start to completion. Our repairs and painting has a ten-year guarantee.
Windows to Suit Your Property
Our customers often contact us when they are thinking of having repairs and restoration work to all their property's windows and French doors. While we always attempt to keep your original frames, we will assess your property to ensure you have the best results for the best value. We try to keep our prices competitive throughout our repair options, and making restorations rather than replacements will always work out cheaper. Our team will advise you on what solutions we can offer you, and explain the type of repairs to you so that you can retain peace of mind throughout our involvement. We aim to fit draught proofing throughout all our repairs and we are very confident that we will achieve results that our customers will love and recommend to others for many years to come.
Insulated Glass and Bespoke Glazing
Sash Heritage Restoration can help improve the movement of your original wooden casement and sash window frames. We can also improve the energy efficiency and warmth of your home by installing draught-proofing solutions. We can make repairs to your exterior, including painting, replacing putty and pointing where required, so your windows look and behave as they were originally intended. Sash windows can have double glazing installed, and we use Slimlite Double glazing in many of our customers' homes. Adding Slimlite glazing to existing windows can be a cheaper option than a full replacement of timber sash window frames.
We advocate the addition of double-glazing where possible as this can also have other benefits – such as better noise insulation. Sash Heritage Restoration will carry out all the refurbishment you wish at the highest level of craftsmanship. Our team are masters of their trade, and can create beautiful restorations with Slimlite double glazing so that your home will have a warmer base temperature in the winter months.
There are a huge range of sash window designs featured in properties throughout the UK. Sash Heritage Restoration make meticulous assessments to your property's existing sash windows, as they know that each window is as unique as the home you reside in. We are specialists of a highly-skilled trade, and replacing the rotten timber of original sash windows can offer up a whole range of considerations unique to your building and your requirements. With many homes modernised or extended, there are a falling number of period properties remaining in the UK, and many of these are now listed and conserved. The Sash Heritage Restoration team are trained in a skill set that has sadly now been forgotten by many, with lots of home-owners and new-builds opting for the sometimes more economical and low-maintenance uPVC or metal-framed windows and doors. The Sash Heritage Restoration joiners have worked on many hundreds of Victorian, Georgian and Edwardian buildings. We are proud to share a number of these stand-out projects in our online gallery and we feature these protected buildings in our portfolio, along with sash and casement timber window work on homes built later, in the 1930's and 1940's. With a wealth of experience such as this, you can be sure that your property is in the hands of the safest and most capable team. We will offer tangible solutions to all your sash window related queries and questions about repairs – no matter how large or small.
The addition of insulated glass installation can mean that now your period home can have the benefits of old and new, at the same time. The beauty and splendour of traditional sash windows do not have to be lost to other, more cheaply made materials, while advances in craftsmanship and technology means our team can use the most up to date technological skills to add Slimlite double glazing and draught-proofing to your original timber frames – in other words – Sash Heritage Restoration can blend the best of two worlds.