Sash Window Heritage Repair & Restoration Sussex
Sash Heritage Restoration are based in the area of Sussex. With our team of master carpenters, we are able to preserve and restore the sash and casement windows of any property. Our customers refer to us as a 'one-stop-shop', and we are proud to preserve the original period features of properties that are protected and grade-listed. Sash Heritage Restoration carry out repairs to the frames so that they can look their best with the utmost care and attention.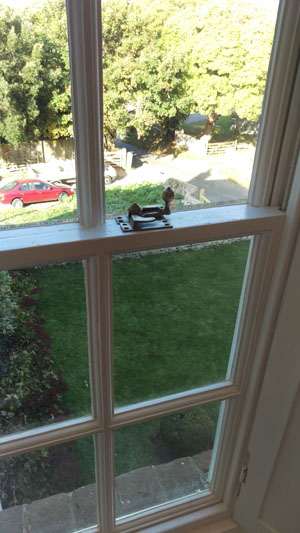 The Sussex area has many listed homes and commercial buildings that require a level of specialist upkeep to their windows. Sash Heritage Restoration can assist with all matters that may arise when dealing with the maintenance of period windows, ranging from minor frame stickiness, cord or pulley replacements, to complete wood and window frame replacement. We restore original materials to their former splendour, and always preserve original frames as much as we can.
We are driven to offer a unique service to property owners in this highly desirable part of the country. With an increasing number properties now rightly protected as grades 1 and 2 listed buildings, it is important to remember that period features such as window frames must always be preserved as much as possible.
Sussex is a wonderful part of the country. With easy commutes coupled with coastline living, there is so much history wrapped up in the buildings, the protected parks and local coastal landmarks. Camber Sands still offers nearby residents one of the most picturesque and typically British seaside getaways, while the historical town of Hastings even has its own cave system that offered shelter in the war. We are very proud to help Sussex' residents, old and new, with their sash and casement window upkeep. Through our many years of service within the local area, Sash Heritage Restoration can offer an extensive range of services for window-related restoration jobs, large and small!
Sussex Sash Window Specialist
Our Sussex-based team of master carpenters and joiners use the highest quality materials in their sash window restoration work. These materials has been refined and perfected, tried and tested, so our team can tailor these processes to each individual property's requirements.
Sash Window Repair
Many repairs to sash and box frame are made with sub-standard timber that has been kiln-dried. This is incorrectly used by competitors that do not know that this should not be used to carry out sash and box frame window restoration work. Kiln-dried timber has not yet balanced with its surroundings, meaning it will dry at a different rate on the outside to the inside. This causes hardening and shakes as the window frames age.
Sash Heritage Restoration only uses 100-year old, air-dried timber, seasoned especially for sash and box frame window repairs. This is crucial part of our work, as it is already balanced with the environment and as such, it can be used with perfect results when rotten wood frames and window sills need to be replaced. Using this beautiful, air-dried hardwood prevents premature rotting and helps any paintwork used to last longer. Used in conjunction with a world-class wood-filling treatment, the DryFlex Woodcare System, a truly superior standard of repairs can be undertaken. Our experienced team can create sash window repairs that will look stunning and stand up to the elements and the natural aging process for many years.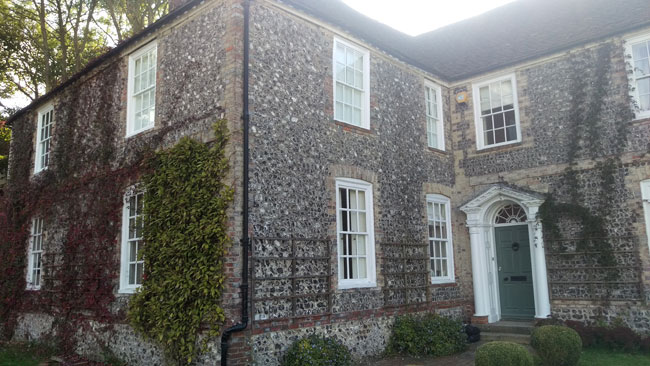 Restoration of Heritage Sash Windows in Sussex
A highly efficient team, Sash Heritage Restoration are small but effective! Able to keep all stages of repair in-house, our team consider the pristine heritage window restoration process to be a fine art. Like most arts, this process has taken a great many years' experience to refine.
The team can prepare surfaces and complete painting and decoration to your preferences. Sash Heritage Restoration use the highest quality materials, treating the wood before painting the exterior to prevent looseness or damage. The team strip back old, congealed paintwork to its bare surface before applying an undercoat and then two top coats to create a superior finish. Our interior decorators also use exterior weather shield paint to help keep your windows looking pristine for longer. All our paintwork is guaranteed for at least a decade.
Slimlite Double Glazing for Heritage Sash Windows
The Sussex-based team uses Slimlite double glazing, laminate or float cylinder glass in their glazing replacements. Our team will discuss the options most suitable for your sash or box frame to ensure the best result and the most perfect fitting. The DryFlex Woodcare filling system is then combined with our sublime natural materials to extend the longevity of your window restoration. This is a world-class wood filling system far superior to alternative brands. More details about this wood-filling treatment can be found on our dedicated materials page. It is only when all repairs and paintwork is complete that our team will fit draught excluders to ensure the best overall result, fit and finish.
If you need repairs to a heritage building's sash windows in Sussex then we are the team you can rely on
The glorious heritage found across the buildings of Sussex are worth preserving and celebrating as part of our British history. This is why we at Sash Heritage Restoration attempt to preserve as much of an existing window feature as possible. Where this isn't possible, using authentic, 100-year-aged air-dried timber means that our repairs will stand up to the infamous British weather far longer than more modern materials. Our team can keep all repairs, however large or small, in-house, without the need for sub-contracts. This means we can keep a high level of workmanship and accountability from start to finish, while prices remain competitive. From those annoying stuck motions and cord repairs, right down to replacement glazing and frame restoration, we are confident we can carry out any type of sash window repair. We really, above all else, want to help you keep your original sash windows.
Sash Heritage Restoration is delighted to carry out repairs, restorations and replacement wood where needed on a wide range of property types across the Sussex area. These include semi-patched properties, Victorian terraces, Graded and listed buildings as well as larger conversation projects. Many examples of our work can be found in our gallery page.