Sash Windows Brighton
Sash Heritage Restoration perform Sash Window Repair and around the Brighton area to preserve and restore existing sash and casement windows. A customer rated 'one-stop-shop', we can restore almost any existing sash window, including those that are part of listed buildings, with utmost care, experience and expertise.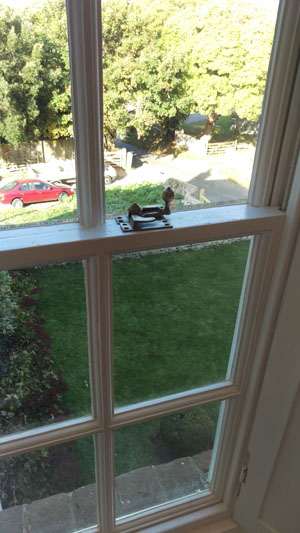 Using a number of specialised materials and processes, Sash Heritage Restoration combine master carpentry and joinery, 100-year-old, air-dried and seasoned timber, Slimlite double glazing and the Dryflex Woodcare System to ensure your windows look pristine and remain draught-proof for many years to come.
Brighton is home to many attractions such as the North Laines and the Royal Pavilion, and there are also many listed homes and commercial properties that require a more specialist level of care and upkeep. Sash Heritage Restoration can assist with all matters that may arise when dealing with the maintenance of period windows, ranging from fixing draughts or stickiness, to a complete wood frame and glass pane replacement. It is very much our aim to keep your home's original materials and help preserve these whenever we can.
We are driven to offer specialised help to property owners in this stunning part of the country. Being just a short distance away from the stunning National Trust site of Devil's Dyke , the South Downs National Park or the famous Brighton Palace Pier, the city's well-known charm is only heightened by so many of its residential streets being packed full with Victorian terraces and Regency townhouses. With many of these properties now protected as grades 1 and 2 listed, it is important to remember that original features must always be preserved wherever this is possible.
With many years combined experience, our superb team of knowledgeable carpenters and joiners, repairers and decorators are an asset to your property's ongoing upkeep.
Heritage Sash Window Artisans in Brighton & Hove
Brighton Sash Window Specialist
Our Brighton-based team have been working in the area for many years – within this time we have refined our service so that we use the very best quality materials. Our years of experience enables us to tailor our restoration services to each unique property.
Sash Windows Repaired to Heritage Standards
Many substandard window repairs incorrectly use kiln-dried timber when carrying out repairs. This does not last as long as we would expect, due the drying out of the wood at a different rate on the outside to the inside. This can cause hardening and shakes in your sash window frames.
Brighton-based Sash Heritage Windows know that timber must be air dried, seasoned and balanced with its surroundings. The 100-year-old wood we use in our repairs is crucial to our superior level of workmanship. Our frames and sills are made with air-dried timber. This prevents any rotting and also helps any painting of the wood to last longer than the standard kiln-dried timbers used by less knowledgeable tradespeople. Combining these beautiful hardwood repairs with DryFlex Woodcare filling treatments mean that your sash or box window restoration will stand up to the elements. Our repairs will look beautiful for many years to come.
Restoration of Heritage Sash Windows in Brighton
While we are a small team, we are able to keep all repairs in-house. Our expert team carry out a specialist service, and they truly believe that the restoration of heritage sash windows to be a fine art – an art that has been refined over many years of experience!
Our team carry out full all preparation, restoration and decoration fnishes required in any sash or box frame restoration work. Brighton's Sash Heritage Restoration use treatments that prevent exterior paintwork becoming loose and damaged over the years.
They strip back any old paintwork to bare wood, applying an undercoat followed by two top coats. Sash Heritage Restoration use the highest quality, weather-shield paints in both our exterior and interior paintwork, resulting in a superior finish that will last at least 10 years. We use exterior paint in much of our interior redecoration so that the beautiful work stays pristine, knock and chip-resistant for as long as possible.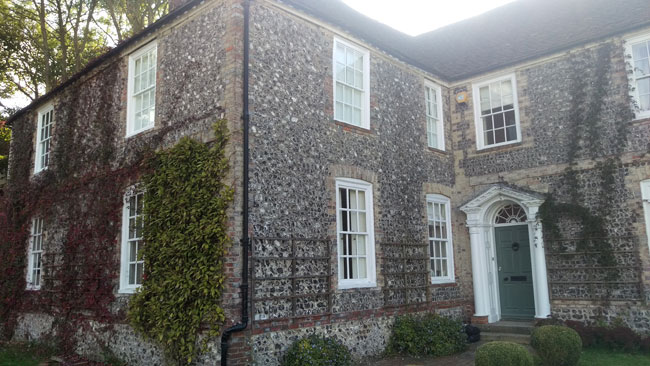 We use Slimlite double glazing and the DryFlex Woodcare System
We use float cylinder glass, Slimlite double glazing or laminated glass that can fit neatly to your original sash or box window frame. Frame repairs are then secured with the DryFlex Woodcare system to ensure their longevity. Please read more about this world class wood filling system on our dedicated pages. Our team only fit draught excluders when this work is complete. All old, congealed paintwork has to be removed and repainted beforehand for a perfect fit and finish.
The only heritage grade sash window specialist to use 100 year old wood in Brighton & Hove
The glorious heritage found in the Brighton area's surrounding architecture is something we feel very strongly about preserving. Modern materials can sometimes fall short and let some building repairs down within a relatively short amount of time. When properly seasoned air dried hardwood wood is used, this beautiful natural material can be easily maintained. Future restoration of our beautiful wood costs far less than a replacement, too.
Sash Heritage Restoration always ask that you don't 'give up' on your old sash windows – they can nearly always be restored – we have years of experience to ensure expert levels of care in your sash and casement window repairs.
Sash Heritage Restoration's team can replace sash cords, repair stuck movements, decorate and replace glazing to improve the energy efficiency of your home without the need to sub-contract any part of your job. In turn, this means our prices remain competitive while keeping to the highest standards of workmanship and accountability.
Rotten window sills and wooden box frame areas are always replaced with our 100-year-old, air-dried and seasoned hardwood. Combining expert carpentry and joinery with the very best filler, the DryFlex Woodcare system, ensures that the sash window restorations we carry out are permanent. We know that many other filling systems do not last against the infamous British weather.
Sash Heritage Restoration are very familiar with carrying out repairs, restorations and replacements on a wide range of property types, including: Semi patched, Victorian terraces, all types of grade listed and conservation buildings, and examples of our expertise can be found in our dedicated gallery's pages.
Sash Heritage Restoration are renowned for their one-stop-shop service in and around the Sussex area. Our highly experienced team of master craftsmen make repairs, restoration and, when necessary, fully replace your sash and casement timber frames in your period property's stunning, original design features. We are available to arrange a visit to your grade-listed building or period home at a time most convenient to suit you.
Our team will advise you as to the best possible short-term and long-term timber frame restoration and maintenance service. We try to offer the best all-round service coupled with best value for money as we can. Our team will work with you to make sure that the criteria regulations with regards to conservation and listed buildings are met, in addition to improved sound management and energy insulation.
Our team of expert joiners will always repair existing frames wherever they can, using the very best timber and Dryflex wood care filling system to renovate any rotten window sills or frame work. Seemingly simple replacements of cords and damaged beads can make a huge difference to working movement of your sash windows.
Restoration of your Home's Windows
Our customers often stay with us for many years, with initial consultations and extensive work undertaken simply being maintained every few years or so. Wherever possible we hope to preserve any existing timber frames and make repairs to these and any rotten sills or sashes made with our specially air-dried, 100-year-old timber. In addition, we make repairs by filling any less-than-perfect existing frames with the Dryflex Woodcare range. The high quality of our materials is essential for our growing customer base, grade-listed building work and excellent local reputation.
Restoration of your Home's Windows
We are also able to offer the installation of double glazing in to existing listed buildings without the need for replacement frames – this is a specialist task that requires a high degree of joinery skill – fusing traditional and modern techniques for the very best results. We do not sub-contract out any the stages of our work, with our team building new frames on site where this is absolutely necessary. By keeping the stages of our workmanship in-house this ensures a great rapport with our customers and team, from the beginning steps to the end result, this helps to keep the usually costly maintenance of period features more competitive.
Sash Windows to Last for Many Years
Sash Heritage Restoration's team of friendly experts in sash and casement frames are always on hand to advise you of the best possible steps moving forward. Out team know that sash windows that aren't maintained very well will cause you much annoyance and irritation. The worst impact goes further than simple frustration – poorly looked after windows of your period home will affect the price and ability to easily sell your home – if indeed you ever wanted to move. The upkeep and condition of your property's front fascia will be the first impression a prospective buyer will see, and any maintenance of a listed building will be your responsibility to ensure that the regulations and regular upkeep is adhered to. While we know that we are preaching to the already converted in many cases, we want to offer a' one-stop-shop' service where you can feel confidence and great about your windows, your frames and the overall working order and paint finish so that your period home can look tasteful, stunning, and in keeping with the original style it was built.
Insulated Double Glazing in your Sussex Home
The condition of your sash windows will suffer over time. When unpainted wood is left exposed to the seaside wind and rain, the windows will become flaky and let excess moisture seep in to the underlying timber. This penetrating moisture is what causes the timber to decay at an alarming rate when you do not keep your frames painted and maintained regularly.
Small, regular maintenance of your timber sash or casement window frames will prevent having to overhaul and fully replace them at a later date – this will save you an obscene amount of money in the long term. Sash Heritage Restorations want to make good your existing frames and only advise you to replace them in the event that they are beyond repair. Please contact us today for a consultation.
Sash Window Restoration in Brighton
The Sussex area is famous for its coastline and as one of the most desirable places to live in the UK. A large part of this charm is due to the architectural heritage of cities and towns such as Brighton and Eastbourne, and many of these buildings were and still remain artistic jewels of the Regency Period. As a result, many of these buildings are listed, protected from inadequate or stylistically wrong modifications. Owners of these properties are asked to maintain these period properties using the most sympathetic and authentic materials, and as a result, they often require specialist teams of carpenters and other tradespeople to do so.
Timber-framed sash windows are prevalent throughout period properties in the area, spanning the Victorian, Regency and Georgian eras. This area of the UK battles the elements constantly, being so close to the coast, means that the general 'wear and tear' of these buildings can mean more frequent upkeep and maintenance.
Sash Windows that haven't been properly looked after can suffer from a number of issues that may often require urgent attention; the first being when they are not painted regularly and as such not protected enough from the elements, or conversely, painted so much without proper preparation that there is a build-up of old paint and excess material that stops the sash from moving as freely as it should.
The most frustrating and problematic examples of this can mean that some sash windows are left permanently closed as they can no longer open, or worse still, a sash frame that has got stuck so that it is slightly ajar – permanently, or until proper attention is sought.
Sash Window Heritage Restoration in Brighton, East Sussex
Sash Heritage Restoration is proud to offer Sash Window Repair services in Brighton, a large town located in East Sussex in South East England.
As Part of the City of Brighton and Hove, Brighton forms a Unitary Authority and is part of the greater Brighton and Hove built-up area in Sussex.As well as Sash Heritage Restoration, Brighton is home to many of East Sussex's leading businesses. Brighton was previously known as Brighthelmstone. Blightey & Brighthelmstone are still frequently used nicknames.Brighton incorporates a number of villages and settlements including Aldrington, Old Steine, Bevendean, Black Rock, Brunswick, Coldean and Hangleton.Hove, Mile Oak, Moulsecoomb, Hollingbury and Hollingdean are included withinin Sash Heritage Restoration's Sash Window Repair service area in the City of Brighton and Hove.Other service areas of Sash Heritage Restoration within in Brighton, Sussex accommodate Portslade-by-Sea, Saltdean, Ovingdean, Patcham and Rottingdean,as well as Brighton and Hove's outer urban areas Westdene, Woodingdean, West Blatchington and Withdean.Last in order of mention, Sash Heritage Restoration's Sash Window Repair services cover the Brighton Municipality along with Stanmer, Bear Road area and Brighton Marina.Brighton is administer by the BN postcode area.The Sussex University and University of Brighton are known through out the United Kingdom.Queen's Park, Brighton and Preston Park, Brighton are enjoyed by residents and known through out England.Integral major roads in Brighton are the A27 road and the A23 road.The town of Brighton and Hove is bordered by Littlehampton, Shoreham, Worthing, Lancing, Sompting and Southwick to the West.The town of Brighton is bordered by Lewes, Burgess Hill and Peacehaven to the East.