Heritage Sash Window Restoration in Eastbourne
Sash Heritage Restoration work in and around the Eastbourne area to restore sash and casement windows to their former glory. Often referred to as a 'one-stop-shop' by our customers, Sash Heritage Restoration are able to restore almost any sash or casement window with the highest quality materials. These also include those window frames that are a part of graded or listed buildings. We help to preserve the original features with a high level of knowledge, care and expertise.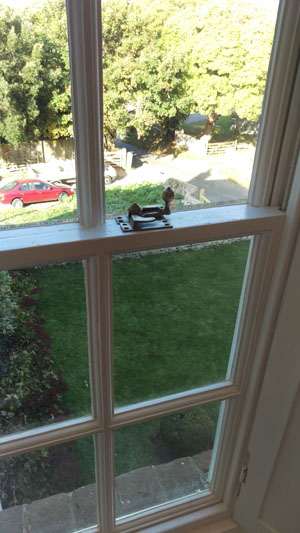 The Eastbourne area is home to many historically significant, listed buildings and commercial properties that require a more specialist level of care and upkeep. Sash Heritage Restoration can assist with all matters that may arise when dealing with the maintenance of period windows, ranging from fixing draughts or stickiness, to complete wood and glass frame replacement. We actively seek repair methods to preserve original features wherever we possibly can.
Eastbourne is a wonderful place to live, combining easy city commutes with stunning coastline living. The traditional Victorian boardwalk of Eastbourne Pier offers the usual British seaside past-times and amusements, while those that want to catch their breath and soak up the famous local geological landmarks can do so immediately eastwards towards Seaford. The white chalk of Beachy Head and the famously unspoilt Seven Sisters' cliffs. With the beauty of the South Downs National Park so close by it is easy to see why so many are choosing to relocate to the Eastbourne area.
We are proud to help new home owners in the area with their sash and casement window upkeep, and through our many years of service within the local area, Sash Heritage Restoration can offer a complete service, a 'one-stop-shop' for window-related restoration jobs both large and small!
With our team's combined experience, Sash Heritage Restoration can become an asset in the renovation or repair of your Eastbourne home.
Eastbourne Sash Window Specialist
Our Eastbourne-based team of sash window experts use only the very best materials in their work. Sash Heritage Restoration are able to use these high-quality materials to best effect when restoring the sash windows of each individual property, tailoring their years of experience with each unique job.
Sash Window Repair
There are many substandard sash and box frame repairs carried out by tradespeople that do not realise the specialist nature of this type of heritage restoration work. Many repairs are made incorrectly with kiln-dried timber. This type of timber can cause hardening and shakes and does not withstand the elements and natural changes in the same way as air-dried timber. This is due to the fact that kiln-dried timber does not dry out at the same rate on the inside and the outside, creating detrimental changes as the wood ages.
Sash Heritage Restoration only used 100-year-old, seasoned and air-dried timber for all restoration work that requires any new wood. We know that the air-dried timber we use is already balanced with its surroundings, and as such it is a crucial part of our work.
Our replacement sash window frames and repairs to window sills are made using air-dried timber, preventing any premature rotting and helping any paintwork to last longer.
This timber is used in combination with the superior DryFlex Woodcare system to ensure a world-class standard of heritage window restoration. Sash Heritage Restoration can make repairs that will look beautiful and stand up to wear and tear, natural aging and the elements for many years ahead.
Restoration of Heritage Sash Windows in Eastbourne
We at Sash Heritage Restoration are small but highly efficient team, who are able to keep all our repair stages, from meticulous wood preparation to interior paint finishes, in-house. Our team of experts consider the restoration of original sash and box frame windows to be a fine art, and like most arts, their techniques have been perfected and refined over many years of experience!
The team can fully prepare wood surfaces to their original state and complete decoration after the restoration of any framework. Sash Heritage Restoration use materials of the highest quality, including treatments to your window frames that prevent the paintwork of your property's exterior from becoming loose or damaged prematurely.
The team strip back old paint, applying an undercoat followed by two layers of top coat for a superior finish, using the highest quality weather-shield paint that lasts at least 10 years. In addition, much of our interior painting is also carried out with exterior paint to ensure that our restorations stay as beautiful and knock-resistant for as long as possible.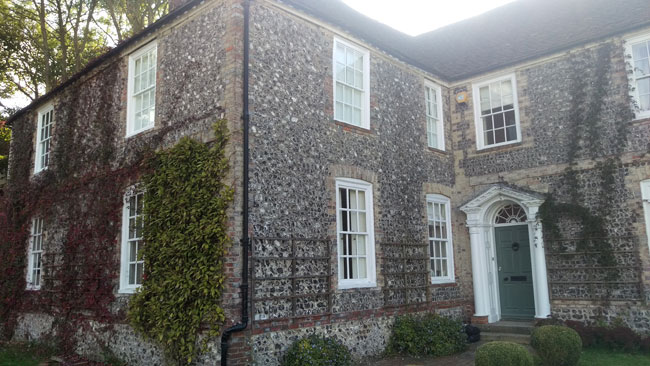 We use Slimlite double glazing and the Dryflex Woodcare System
Sash Heritage Restoration in Eastbourne uses Slimlite double glazing, float cylinder or laminated glass where most suitable for the best possible fit to your original sash or box window frames. These frame repairs are then further secured with the DryFlex Woodcare system to extend longevity. This world-class wood-filling treatment system is far superior to other brands. More can be read about this fantastic treatment range on our dedicated pages. It is only then, when all preparation and paint work has also been replaced and repainted, that our team fit draught-excluders to achieve the very best fit and finish.
The only heritage sash window specialist in Eastbourne to use 100 year old wood
The architecture around the Eastbourne area is all part of our glorious heritage and this is something that we feel strongly about preserving. Modern materials can let us down when trying to preserve the period features of a property. When air-dried, 100-year-old timber is used, this means your windows will last for many more years ahead and any repairs will cost far less than a kiln-dried timber replacement.
We can keep our standards high while remaining financially competitive due to our ability to keep all our repair services in-house – from the smallest cord or pulley repairs to complete wooden window frame and glazing restorations. We are familiar with a range of local property types, including Victorian terraces, grade and listed buildings, conservation projects and semi-patched properties. Examples of our outstanding work can be found in our gallery's dedicated pages.