Sash Window Restorations
Sash Heritage Restoration install new brush-pile, draught-proof systems throughout all their replacement and repairs of sash and box frame windows. Proper draught-proofing can help to save you and family money on heating your home over the winter months, in addition to improving the sound insulation and rattling noises associated with older wooden sash window frames. We want to ensure that all the homes we install and repair windows are transformed and made draught-free, all year 'round.
Sash Heritage Restoration ensure that their prices offer value for money and remain competitively low. This is also the case when making draught-proofing improvements. All the repair work undertaken by our highly-skilled sash window specialists are guaranteed for ten years. A member of our friendly and experienced team can arrange to visit your home to assess the requirements for the installation of adequate draught-proofing systems. Our estimates are always accurate and we aim to create a solution for you as soon as possible. Please contact us today for more information.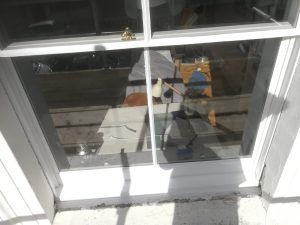 Original wooden-framed sash windows that are well-maintained look absolutely stunning, however they can also mean higher energy bills. Older original frames can become vulnerable to the elements over time, and draughts can become more and more noticeable. If this is something you have concerns about, our team can come and assess whether the windows are the culprit causing your draughty home and in turn, offer a range of solutions to modernise them with the highest quality products. Resealing windows that cannot have full frame adaptations can often make a big difference to draughts, and the sealant is discrete-enough so that it does not affect the appearance of your beautiful timber sash window. Additional benefits to resealing older sash windows can improve any rattling or whistling noises. These repairs help to create a better opening and sliding movement that improves any stickiness that has developed over many years. Our team can make your older sash windows better equipped to retain heat indoors in the winter months, transforming the overall room temperature of your home.
Sash Heritage Restoration are a Sussex-based company that can help transform your sash and box window frames to their former elegance. While we try to make repairs to original frames wherever possible, where the damage is too great, replacement frames can be made and new top of the range, Slimlite double-glazing can be fitted. Our team of highly-skilled joiners can make bespoke frames from one-hundred-year-old, air-dried timber so that your window cases can look perfect, once again. We offer a range of glazing options; slimlite double glazing, decorative glass or safety glazing can also be fitted upon request. Whatever your requirements, contact our team today to arrange an estimate.
While sash windows can often still look good despite falling in to disrepair, it is important to maintain them so they can look their very best. Sash Heritage Restoration offer a range of replacement and repair options for those living in the Sussex area. We can take care of all sash window-related problems, no matter how small, and we specialise in restoring the sash and casements of period homes and many grade 1 and 2 listed buildings that were built in the Victorian, Edwardian or Georgian eras. There are a number of problems associated with older sash windows, such as broken or scratched glass and rotten wood that needs replacement or where possible, filling using the DryFlex woodcare system – the only filler that lasts for many years.
Traditional Sash and Box Frame Windows
The Sash Heritage Restoration team can also make smaller scale improvements to the frames, as well as carry out repairs to the related ironmongery, cords that have become loose or snapped, incorrect weights or fix any broken locks. These repairs can mean improved home security levels so that you and your family are always as safe as possible.
When your grade-listed home needs repairs and ongoing maintenance, the value of your property can be adversely affected. The Sash Heritage Restoration team are available to carry out extensive repainting and decorating services to make sure you home always looks appealing, especially to prospective buyers. The team operate at a very high level, with an attention to preparation and detail that is locally unsurpassed. We can paint your timber sash or box window frames to suit the original style and age of your property yet offer as many options for you to create a personal stamp on your home. We aim to achieve the highest levels of customer satisfaction so that you can get the result you want. All our restoration work and exterior top-coat paints are of the highest quality and as such, are guaranteed for ten years. We know that this guarantee helps our customers trust us with their window maintenance in the future.
Sash Heritage Restoration can help customers who wish to have double-glazing installed in their original sash windows, and in the case for grade 1 or 2 listed buildings, there are additional solutions to improving the energy efficiency and warmth of your home all year 'round.  Sash Heritage Restoration can adapt older frames to fit new Slimlite double-glazing, and make the necessary changes to the weight and balance of your frames so that they operate perfectly after the new glazing has been fitted. Having proper draught-proofing installed can mean that the outside noise audible in your home is considerably lessened, making us a perfect choice for homes that have rooms backing on to noisy roads, schools or other busy communities. This is even more important for sitting rooms or bedrooms as draught-proofing can improve your ability to sleep without distraction from outside noise – a definite improvement on your quality of life. The installation of brush-pile draught proofing can save you money on your heating bills and insulation over the long-term future. The added warmth brought by proper draught-proofing of older sash windows can be felt in the winter, almost immediately. If you would like to find out more about our draught-proofing systems please contact our customer support team today.