Sash Window Repairs at Competitive Prices
Sash Heritage Restoration are a Sussex-based local service that provides expertise in all types of timber sash and box frame windows. Our friendly team can offer a wealth of guidance and experience when making enquiries with regards to your property's original period feature window frames
The team can carry out all types of repairs, from simple weight or cord adjustments, right up to the entire replacement of your home's timber frames when required. Despite this, our team always attempt to retain your home's existing frames, repainting and refilling them where required so that you can keep the character of your home as it was always intended. In addition, restorative repairs must be attempted with grade-listed buildings, due to the prohibition of replacement frames without due cause and permission from local planning authorities.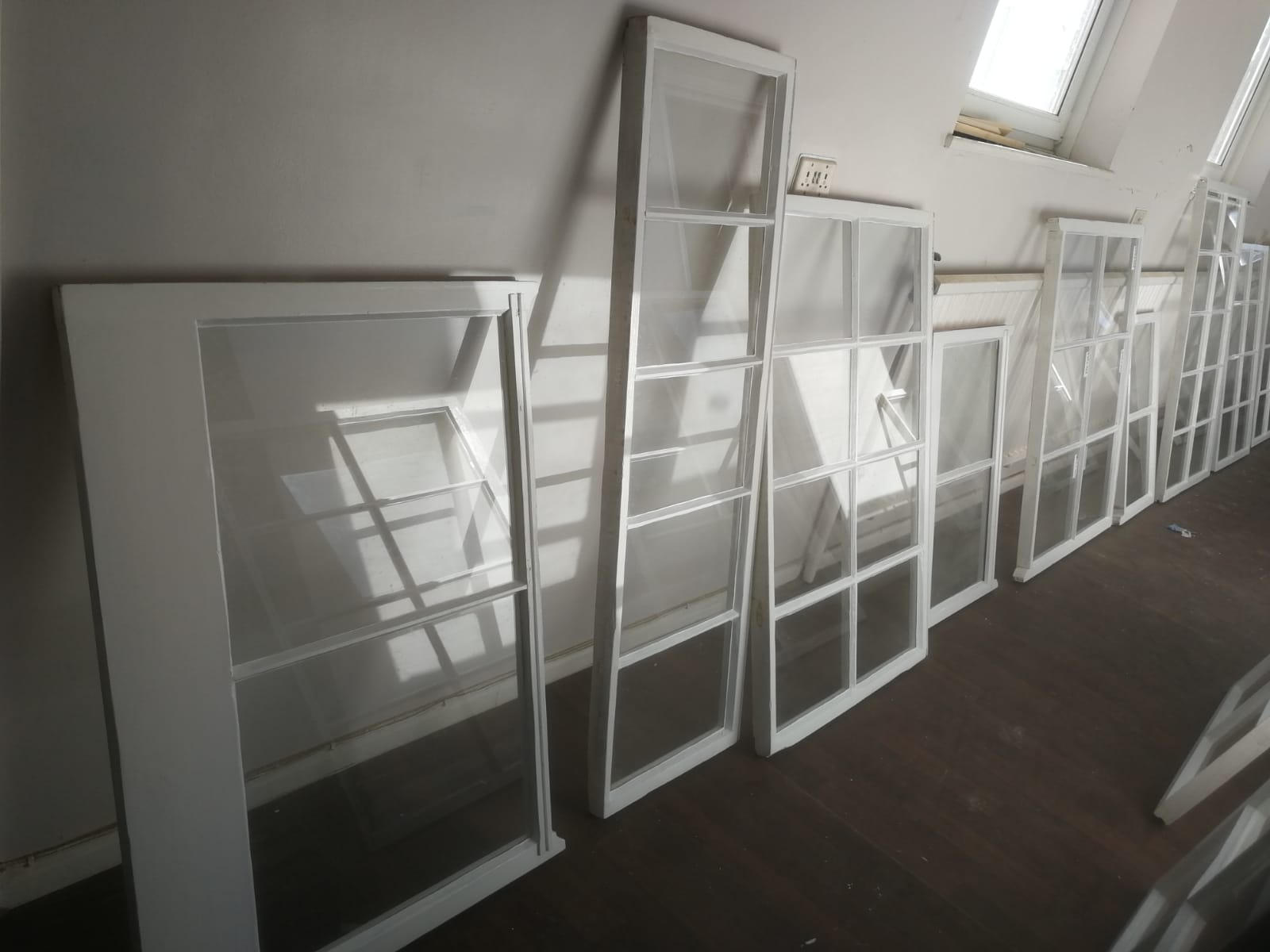 Sash Windows and our Pricing Guarantee
Our small but highly-skilled team manage to be a one-stop-shop for all things related to sash and casement timber window frames. This ensures that from the very beginning, until the finished result, our team keep all repair work undertaken, in-house. No part of our restorative work, from glaze-cutting to timber frame-making, is outsourced or sub-contracted, meaning that we can keep our prices as low and as competitive as we can. While some larger companies have a fixed price list, and charge as set amount per window, we prefer to take a more personal approach with each set of windows that become entrusted in our teams' care. Our attention to detail and the pride we take in offering an un-surpassable service are an implicit part of our values.
Sash Heritage Restoration takes into account the severity of any work required, and our team will carefully assess the type of restoration and bespoke window rejuvenation, replacement or additional double glazing, whether glazing is to be installed to existing period timber frames or newer, more recently installed timber frames. Small repairs such as draught and noise reduction, energy saving and sash movement improvement, rehanging and sanding down of excess paint and stiff or even stuck windows are all problems that can be all too common. Often these issues arise for those who live in homes with un-maintained sash and box frame windows.
The amount of work we carry out across homes in the Sussex area can vary widely; our team will come to assess the work required and their high levels of attention to detail mean that you will have a very accurate idea of the overall work and time required to repair your stiff sash windows or make Slimlite double glazing installations. We aim to be as transparent and accurate about the hours needed to carry out preparations for repainting and decorating. Windows that have not had regular maintenance will sometimes need more preparation or the stripping and removal of excess paint. We want to reassure you of the benefits of restoring your original sash windows instead of considering uPVC or Spectus imitation-timber frames – this means we will always do our best to remain competitive in comparison to the removal of your wooden frames with other, non-wood materials.
For those who live in a period home built in the Victorian, Georgian, Edwardian or Regency eras, it is of paramount importance to us that you decide to restore your windows using our competent and experienced team of master joiners and craftsmen. It is totally possible to install Slimlite double glazing to your existing frames without the need for complete frame replacement. This will preserve the stunning beauty of your home, as it was originally designed, yet utilise the full potential of modern glazing and repair techniques.
Timber or Polyvinyl Chloride Sash Windows
Sometimes our customers deliberate as to whether their windows require full replacement; it is at this point we advise that you contact us without delay. While there are materials that offer the benefits of uPVC or similar composites offered by brands such as Spectus, there is something classically beautiful about real, seasoned timber that has been optimised, aged and air-dried over many years to prevent your new sash window frames from rotting or shakes.
Insulated Glazing for your Period Property
Our team pride themselves on using the very best products throughout the restoration of your homes' windows, architraves and timber frames. Sash Heritage Restoration are proud members featured on Checkatrade, and our reputation in the Brighton, Eastbourne and wider Sussex area continues to grow from strength to strength.
Replacement Frames made with 100-year-old. Air-Dried Lumber
Sash window frames have a high level of aesthetically pleasing qualities, so much so that Georgian bars can be intelligently used to imitate the look of a sash window on an otherwise plain window casement. Placing a bar across the middle of a plain window casement can be a clever way to optimise Georgian bars so that the original plain-panelled window looks like a sash window.
Advice can be obtained from our knowledgeable team as to how to make your home's original windows look the best they can, no matter what their current condition. Sash Heritage Restoration are devoted to keeping the original timber frames of your windows, repairing them with the Dryflex Woodcare range and replacing any rotten timber with air-dried, seasoned timber that is already aged up to 100 years.
The advances of contemporary home design can be utilised alongside traditional joinery repairs and framework to offer your home windows that couple thermal and energy efficiency with the highest level of security. Sash Heritage Restoration are dedicated to providing original window frames with versatile modifications that keep the classic beauty of timber frames yet enrich them with robust, high quality fixtures and compatibility.
Your sash windows can be customised to suit your home, and Sash Heritage Restoration specialise in window frames used in homes from the Regency, Edwardian, Georgian and Victorian eras. Our team can create a number of different types of paint finish, all guaranteed to last for a minimum of ten years. Our paints and stains come in a wide range of colours that are sympathetic to the tasteful showcasing of your period home, while adhering to your individual preferences of colour and wood-stain finish.
Contact the team at Sash Heritage Restoration to discuss your next home improvement project – we will endeavour to do our best to give you a competitive and affordable deal. Home owners are invited to work alongside our talented team of joiners, who are all fully-trained in sash window installations. We can provide a fuss-free, quick and easy schedule to install new glazing or make repairs to your existing frames using the highest quality products that are currently available.