Repairs and Dryflex
Sash Heritage Restoration Ltd pride themselves on being able to restore and refurbish almost any sash and casement window using the meticulous and skilled carpentry and joinery and the Dryflex Woodcare System.
This is a permanent fix – all other fillers are inadequate when used to repair holes and cracks etc.  They are only efficient for fine filling between primers and undercoats.  The bare wood should always be primed, first before the application.  All joints to newly made or original sash and casement windows and also box frame areas will always open up and move. We use 10-year proven paints but even that will crack or blister prematurely at the joints or cracks, causing rotten wood even within one year.
A Proper Repair with the Dryflex System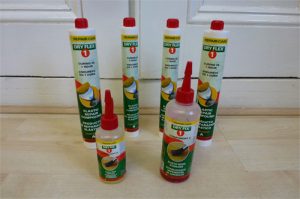 We take out all joints and cracks by 1/8 or more and fix permanently with Dryflex. We have been using this Woodcare system for over 20 years so we know how effective it is in restoration and refurbishment to regain the splendour of our beautiful Heritage windows. We can repair with old seasoned wood, which we have in stock. It is against the law to replace original sash and casement windows with new on grade listed buildings and conservation areas, unless they are completely rotten and beyond repair.
Most companies claiming to be sash window restorers are carpenters, and only want to replace with new.  If they find small amounts of rot anywhere even on box frames, you will be advised by them to replace because you will be told that all fillings will crack and drop out causing rotten wood again, giving the same problem.  This is true, but we know by using carpentry and Dryflex we can save them – as explained and shown in our Gallery of pictures.
Low Maintenance Result for Even 100 year old Windows
A sash or casement window or a box frame replaced with a new kiln-dried fast grown softwood pine will have to be regularly maintained and redecorated.  Even the 10-year proven paints do not last anywhere near so long as it would on an original sash or casement window or box frame.  The newly glued joints will cause the paint to crack and blister at those points.  New windows will rot very fast if not maintained regularly, even within one year; in the end, becoming very costly.
Old original seasoned wooden sash and casement windows are often over 100 years old and even with neglect and low maintenance as we often find have still not rotted away beyond repair.
We are one of the very few companies that can carry out this type of work from start to finish – restoring and refurbishing sash and casement windows to their original glory.
Restoring and refurbishing with this process by us will give you very low maintenance and a finish that lasts and lasts.
Please look at our dedicated pages showing our workmanship on various properties, Grade Listed buildings and terraced Victorian properties.