Sash Window Company in Sussex, Serving Brighton, Eastbourne, Hastings & Chichester
We want to welcome you to Sash Heritage Restoration. Our dedicated team are true specialists of their trade, and we can offer replacement or repairs, not matter how small or extensive, to wooden sash and box window frames. We are proud to be a respected and well-known company that have worked for many years on many hundreds of properties. Many of these homes were built in the Victorian, Edwardian and Georgian periods.
We are experts in fitting Slimlite double glazing into your original sash windows, and are able to restore the authentic features of conserved, grade one and two listed buildings, while adhering to the local planning restrictions and guidelines often in place. Sash Heritage Restoration are a small but highly-skilled team that can make repairs to restore your windows to their former splendour. The importance of a properly insulated window with draught-proofing is crucial when making your period property energy efficient and warm all year 'round.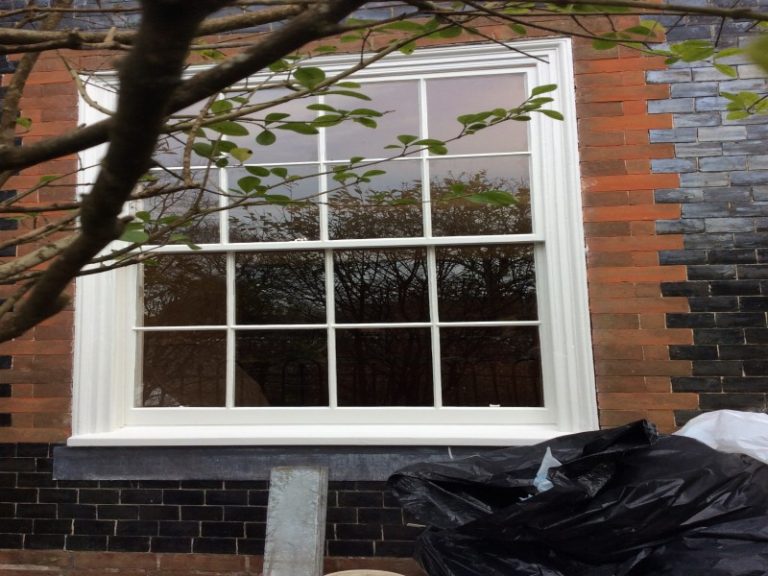 Choosing a Sash Window Repair Company
Many of our customers contact us following word of mouth recommendations after we carry out work around the Sussex area. Often too, we are recommended by those in the home building and improvement trades, such as builders and roofers already undertaking restorative work on listed buildings. Heritage Buildings are a speciality of ours and we do our very best to follow the guidelines and restrictions imposed in conservation properties. Sash Heritage Restoration take pride in applying a meticulous level of detail to all stages of their work, and as such our finished results are of the highest quality in workmanship – we use only the finest products.
All stages of sash and box frame window restoration are done in house, including the production of new frames and glazing, and we are often referred to as a 'one-stop-shop' by our customers. Our team are very respectful of their surroundings and will do their best to create minimum amounts of associated upheaval, and will clean up as they work so that the installation process is as efficient and hassle-free as possible. We like to ensure that good communication between our customers and our team is as effective as possible, and we will try to work around any work or personal commitments you have, working wherever possible to schedule any work so that it is convenient for you. We will notify you of any changes in plenty of time so that you can be well-informed.
Sash Heritage Restoration are the leading sash and box frame repair and replacement company in the Sussex area. They know how important home security is to all of our customers, and they will couple the best locks with a repaired window that will sympathise with your property's Georgian, Edwardian or Victorian style. Many of our customers say that our team manage to keep all levels of noise and disruption to an absolute minimum, and we attempt to keep the area in which we work clean and tidy at all times. While we know that the investment and continued maintenance of your sash or box frame windows is probably an added expense that you could do without, we aim to keep our prices competitive. Our comprehensive service means we do our best to keep all stages of work undertaken in-house, saving you money, while offering the highest quality materials and workmanship.
New Window Frames to Suit any Style of Listed Building
Whether your existing frames need a little bit of specialist maintenance or a full replacement, Sash Heritage Restoration undertake all types of repairs. Whether you require new Slimlite Double Glazing, 100-year aged timber for the windowsills and frames themselves, we can also install new a brush pile draught proofing system to all our sash or box frame window repairs as part of our comprehensive service. We take a lot of pride in transforming old, damaged or noisy, rattling sash windows into energy-saving, draught-proof, elegant windows that will look beautiful for many years in the future. Our dedicated pages can tell you more about making your home draught-free and looking its very best.
Our customers often remark at the aesthetic improvement of restored sash windows, and how much over all difference this can make your home. The installation of Slimlite double glazing to existing sash or box frame windows means that the levels of noise that can travel from outside are noticeably reduced, not to mention the ability to regulate temperature levels throughout the year is also better. The recommendations we receive from our existing or past clients are very important to us and we aim to continue this upward, word of mouth trend.
Sash Heritage Restoration have a dedicated and meticulously-skilled team that can be called to your home for an estimate based on the work that is essential and work that is desirable. We can give you a quote that remains competitive due to keeping all of our work on-site and in-house providing a one-stop-shop for all your restoration requirements. Our team wish you help you at each and every stage. From the first moment you call our customer support department until the very drop of exterior paint has been applied and our completed work is quality-checked. We will meet you on the day of your survey and ask you the precise details of the work you would like to be done. A senior member of our team will make an extensive and highly-detailed check and inventory of your property's windows so that we can assess the level of repairs required and give you an accurate quote. We are able to work around your busy schedule and home life, so we can attend appointments anytime from 7.30am or later in the day depending on your work and life commitments. Please contact our dedicated customer support team to book an estimate today on 01273 257 623. You are invited to take a look at our extensive gallery to look at examples of just some of our work.