Stunning Victorian Sash Windows for Your Home
Sash Heritage Restoration offer a wide range of repair, restoration and where required, replacement work to your sash or box frame windows. While it is very much a personal and subjective matter of taste, many would agree that uPVC, despite its many aesthetic advancements over recent years, is often picked as a door and window materials as a functional choice. Timber work and old glazing, when not properly looked after or maintained, can begin to rot and warp, paintwork can flake and expose the framework and timber to the Sussex coastline's changeable weather. Over time, older glass can become tinged with a greenish hue, becoming scratched or uneven.
As a one-stop-shop, our friendly and highly experienced team with work with you to offer repair solutions that can protect your home from the elements, retain the heat more effectively for the colder winter months, and prevent draughts that can become worse over time, rattle, whistle and/or generally irritate. Our team can make repairs using specially selected, 100-year-old, air-dried timber that will last for many years in to the future. Our team can follow any guidelines or regulations required to ensure that your listed building adheres to the correct local authority rules.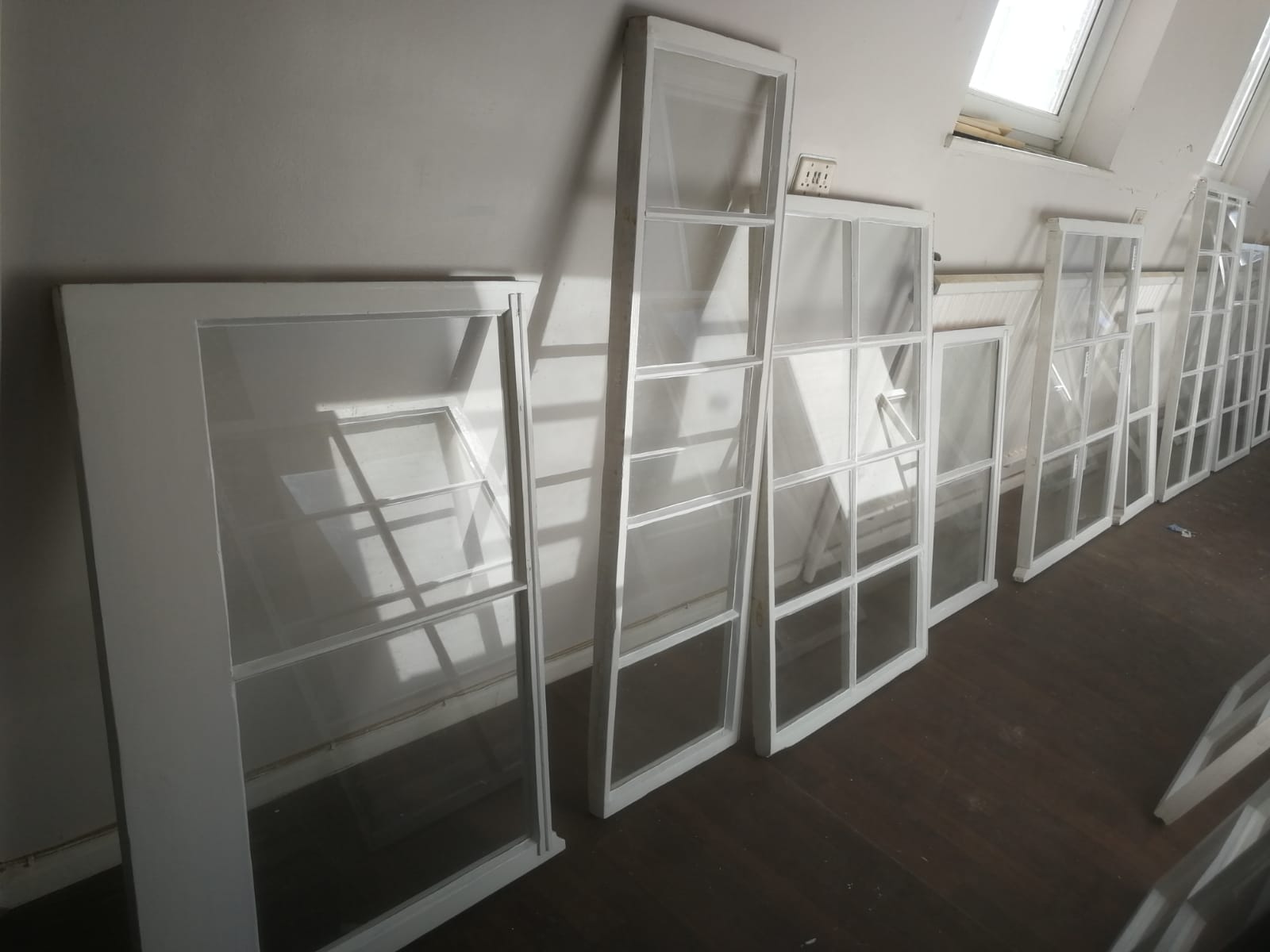 Sash Window Frames made with Original Timber
Sash Heritage Restoration pride themselves upon using the very best, world class materials in all their restorative timber work and repairs. Traditional sash and box frame windows are made using timber. Our team always attempt to retain your home's original frames wherever possible, however any additional wood our master joiners have to use is selected from your range of 100-year-aged, air-dried timber stock.
This is by far the most authentic and aesthetically pleasing material and it will last for many years in the future. Many homes were built in the Victorian era using classic, robust materials such as timber. More recently the price of aged timber has increased by a great deal, and as such the processes and materials used in modern day building have seen the use of cheaper alternatives, the most common being uPVC or aluminium. Maintaining the original timber box and sash window frames on period properties from the Georgian, Edwardian or Victorian era can sometimes prove costly, however Sash Heritage Restoration are a one-stop-shop; our team can keep all repairs and replacements, materials and painting in-house, without the need for sub-contracting.
The timber frames used in your original sash windows are always going to be our first priority, and full frame replacements are only ever made where absolutely necessary. We know that your property will only look its best when keeping to the intended design and finish of its architectural design period. If you live in a listed property, our specialist team will arrange a visit at a convenient time to suit you, to assess the unique requirements of your home. From there, our knowledgeable master carpenters and joiners will also discuss with you any building and repair regulations that often accompany grades 1 and 2 listed homes or the original features of your period property and how best to rejuvenate them to their fullest potential.
Our experienced team can help you seek any local authority permissions on your repair work, and ensure that you are kept informed of any timber stain or paint options to keep the work we do sympathetic to your tastes and the design features that were originally intended.
Victorian Developments in Glass Technology
Many industrial and technological developments took place across the Victorian period, beginning in 1830 and lasting until 1901. This period also saw the discontinuing of the infamous 'window tax', which had a large and long-lasting impact on period homes up and down the country. Residents of these larger homes often bricked-up excess window alcoves to reduce the tax due. Later on, this became a common architectural decision made by developers, and examples of this are featured in design books from the late Victorian era.
This period of history didn't solely see the modification of existing buildings – the Victorian era also championed the advances in engineering that meant materials and parts for new buildings could be made using new machinery in new factories in towns and cities across the country. Essentially, building techniques were developed on a larger, grander stage, with the ability to mass-produce the components needed for housing and industry with a new degree of efficiency, as well as speed and skill.
First coveted in 1834, the introduction of 'Cylinder Plate' glass was part of many revolutionary new techniques pioneered in the industrial revolution. The evolution of glass production methods meant that larger and heavier panes were used when building new properties in the towns and cities, whilst more rural areas continued with the smaller, multi-paned windows until at least the 1880's.
Insulated Double Glazing in your Home
Sash Heritage Restoration will never discard of existing wood frames and original, intact joinery. If, and wherever possible, our dedicated and skilled team of master craftsmen can carry out simple repairs, creating a brand-new look for timber that has in some cases already stood the test of time in properties that are already 130 years old. In more recent years, we have seen a number of substandard jobs carried out on properties with pre-existing sash windows.
These have involved the replacement of original sash box frames with uprated double glazing, or worse still, UPVC frames with double-glazing. These alternative repairs and replacements are often offered by sub-standard or a more 'general' double-glazing competitor. Sash Heritage Restorations hope to prioritise the aesthetic result only achieved with timber and traditional carpentry and joinery methods to ensure that your frames remain in keeping with the how your property was originally intended to look. Our specialist team can help couple this finished look with the most up-to-date insulation, glazing and wood-filling products so that your windows are energy-efficient and cost-effective. While maintaining a period property may have financial implications, we aim to keep these as low as possible, so that making your home repairs give you a source of pride and less of a burden.