Master Restoration Window Painting Services
Sash Heritage Restoration also offer painting repairs as a crucial part of their one-stop-stop service in sash window restorations and replacements. While you may decide to make painting repairs yourself, we can ensure a fantastic result. Sash Heritage Restoration can also supply window repairs on-site and glazing replacement will be prepared after an in-depth estimate. Our customers often choose to opt for a fully comprehensive restoration due to our unmatched local reputation, so that your home looks like a period show-home – straight out of a magazine.
The repainting of existing and replacement sash windows is offered by our highly experienced team of master joiners and craftsmen. The glass on a sash or box frame window must usually have a very slim line of paint to reinforce the seal that joins the putty and the paint. Old layers of paint are usually sanded down to ensure a great base to work from, the foundation layers to a good finish are very important indeed. Our team are skilled with steady hands to make sure that any imperfections and scratches are avoided.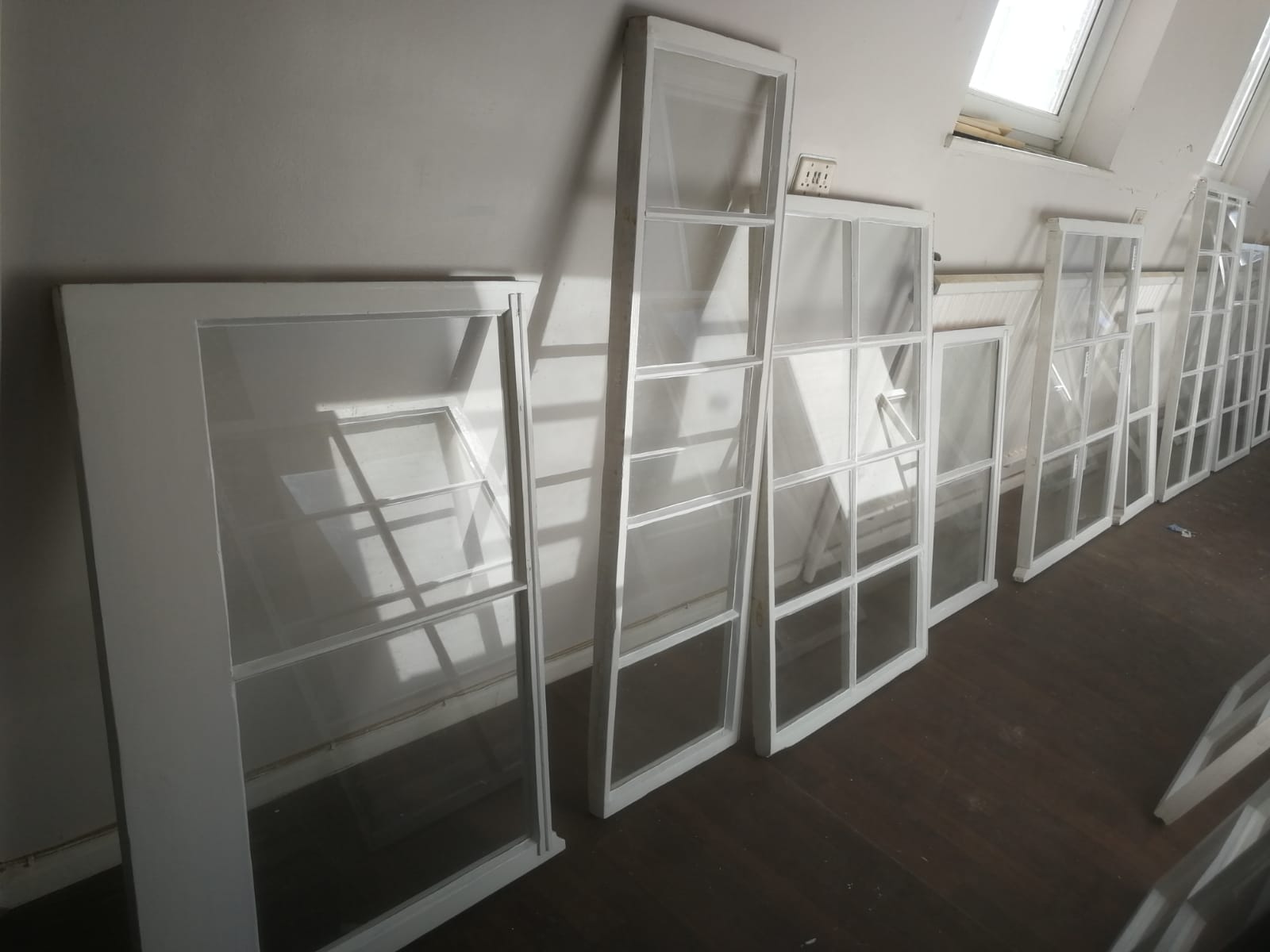 Sash Window Maintenance
Our highly experienced team of sash window specialists know that preparation is key when restoring your existing sash windows, rubbing down the frames to remove previous paintwork and blemishes caused by dirt or paint-drips from work undertaken in the many years before. Cleaning your existing frames is a crucial part of ensuring that a professional level of decoration and finish is reached. Our team may take up to an hour sanding and preparing each potential frame. While existing sash and box frame windows may never look brand new, restoring them so that they fully showcase their original period property charm is more the aim, retaining authentic character and charm. Original materials often have imperfections that add to the character of a building, and our quality craftsmanship will always shine through creating the overall finish, desired. Many clients wish us to strip their existing sash window frames to their original timber. While this takes away the protective coats of paint, often older, lead based, many original sash windows have lasted in properties around Sussex and the UK because they have had so many layers of resistance to the elements.
We at Sash Heritage Restoration know that the upkeep of period and listed properties and their original features can sometimes be difficult and costly. The maintenance required is usually increased when dealing with any type of wood, and in turn, timber sash windows.
We advise that you look after them to prevent cracks from forming over time, and this involves keeping them clean and caulking them. We remove old paint so that your frames are back to their original bare wood when looking for a traditional stain finish. Special attention must be paid to the exterior sash window frames as these are open to the elements. This is even more relevant for Sussex coast-based properties that are more open and vulnerable to the seaside winters. Repainting uPVC windows can be a difficult job really only recommended for professionals, as many DIY enthusiasts can mistakenly seal the window following a poor paint job.
We Use the Finest Quality Paint
Sash Heritage Restoration carries out a meticulous level of groundwork to begin your sash or box frame window painting repairs. For us, our high standards of redecoration include a large degree of frame preparation. After the primer and undercoat has been applied, the frames can be painted with the highest quality exterior paint. Starting with the lowest section of the sash frame. This should be pushed open to the top, so that the mullions can have paint applied to them to begin. Mullions can be identified as the strips inside the frame that hold the glass itself. Painting these properly takes a degree of skill, and our friendly team of professionals pride themselves on their attention to detail. The mullions on the other sash should then be applied with exterior top coat. Following this, the frame's face on the lower sash window must then be painted and after, the underside. The topcoat will be left to dry without sticking by pushing the highest sash back just enough so that newly painted surfaces do not touch each other. This high-quality topcoat should be applied twice, so that your newly restored frames have a finish superior to many of our competitors.
The exterior paint will be guaranteed to keep its colour and original opacity for many years, and will be resistant to knocks and chips as it ages.
Window Painting as Part of a Comprehensive Service
Our team of master tradesmen will assess the restoration work on your sash and box window frames and begin to prepare them by thoroughly sanding them, cleaning and dusting them with methylated spirit or similar product, which ensures that any residue is totally eradicated. Chips and splits that can be repaired in your existing frames are filled with the highest quality filler, the 'Dryflex Woodcare' system, and we use this throughout our work. In addition to sanding and timber preparation, the paint layers are stripped so that they have a good 'key'. This terminology means that the old sheen from the paint prior to the current restoration has had its sheen removed completely. This painting preparation must be ensured whether undertaken by professionals or those wishing to undertake the job themselves. Achieving a good key is essential so that new paint does not begin to peel or flake very soon after the new coat is applied. It is only upon completion of these preparations that spot priming can begin. The primer has a greyish-silver hue that contains aluminium to protect all your exposed timber and DryFlex Woodcare filler from the harsh, year-round coastal elements prevalent in properties situated in Brighton and much of the Sussex coastline.