About Sash Heritage Restoration
Sash Heritage Restoration is a Brighton based company working all over Sussex and further afield if required. We restore and refurbish almost any sash and casement window using carpentry, joinery and the Dryflex Woodcare System. Your windows will look pristine and new again, be draught-proofed and last for years.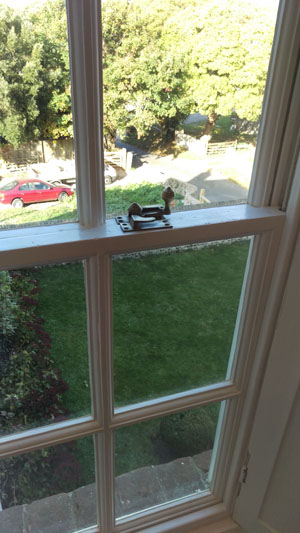 We are probably one of the only companies that restore and refurbish sash and casement windows from start to finish. We are meticulous when it comes to restoration and refurbishment of traditional wooden windows – your Heritage property deserves nothing less and it costs no more than a complete replacement.
Customers searching the Internet, Checkatrade and elsewhere have often told us we are the only 'one stop shop' (as they put it) that they could find. Please note we are a small firm with dedicated craftsmen and we never subcontract to other companies. We only supply skilled carpenters, who promptly travel to your site and do the whole job between us. We completely strip all the old paintwork back to bare wood first. After meticulous preparation, we apply an essential undercoat followed by two top coats, only using top-quality interior and exterior paint while decorating, which results in a superior finish. Our interior paint does not colour with age, and is resistant to knocks from furniture, animals and children.
We fully glaze using float glass cylinder glass, Slimlite double glazing or laminated glass which can all be fitted to your original Heritage sash and casement windows. All carpentry and joinery included with the Dryflex Wood Care system is used for a permanent fix as explained on our dedicated pane repairs and Dryflex pages.
Restoration of Heritage Sash Windows
Sash Heritage Restoration Ltd is the only company you will need to call, to fully refurbish and restore your sash or casement windows. We are a small company and do not sub contract or try to recommend other trades as it is a fine art to restore and refurbish a window and all trades need to work together at the same time not bringing in one after another trade. Our treatments prevent all exterior paintwork – which very often needs restoring – becoming loose and damaged over the years.
We carry out full decoration and preparation on the interior and exterior of all sash and casement windows.
We use the best quality weather shield paints which are 10 year proven
We use exterior weather shield paints to the interior for a longer lasting finish
We fit only high quality draught excluders
Most importantly, for all sash and casement windows, when restoring and refurbishing only full quality draught excluders are fitted helping to give smooth draught free operation of the windows, especially when the often thick congealed old paintwork has been removed completely back to bare wood. It is senseless to fit draught excluder before preparation has been fully completed. Full decoration cannot be carried out properly if this is not done first.
Caring for Kiln-Dried Timber
Instead of insisting on new windows, we restore your windows to their original structure. Brand-new windows do not last due to the properties of kiln-dried timber. Kiln-dried timber dries on the outside more quickly than the inside, causing hardening and shakes. Timber must be equally balanced with its surroundings. This may only be achieved with air-dried, seasoned timber.
New sash windows are made from soft kiln dried wood that does not last – unlike your original beautiful, original Heritage sash windows which are made from old seasoned wood; newly made sash windows made from kiln dried timber rot a lot quicker and the paint does not last as long. Also, any new sills required would be replaced with a hardwood sill so the sash window will last a lot longer.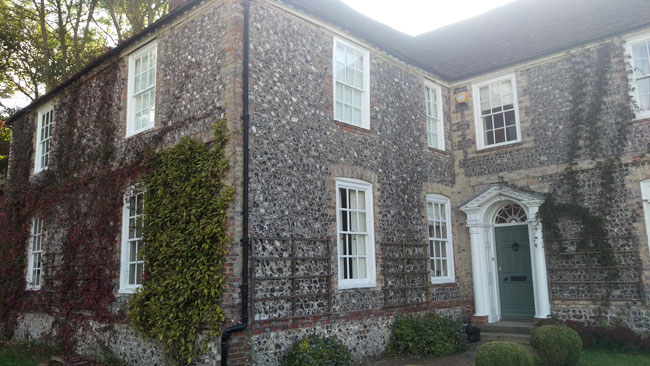 The Ultimate Treatment for all Sash and Casement Windows
We have years of experience at keeping the beauty and splendour of our glorious Heritage which we feel is especially worth preserving – when modern materials can let us down within a relatively short time, properly seasoned wood which has lasted for over 100 years can be restored and look as good as new and cost less than simply putting in new, too. So don't give up on your historic sash and casement windows – they can be restored! Sash Heritage Restoration will carry out all work from stuck windows, replacing sash cords and re-glazing. Rotten window sills are always replaced with hardwood, rotten areas to any sash or casement window, box frame areas and sills, etc will be repaired with expert carpentry and the Dryflex Woodcare system which is a permanent fix – all other fillers do not last.
We are experts in restoration and refurbishment of all sash and casement windows to all grade listed buildings, conservation areas, Victorian terraced and semi patched properties etc as shown on our dedicated pages.
Sash Window Repair
Sash Heritage Restoration are a small but extensively experienced team of timber sash and box frame window experts. Our team cover all types of repair and refurbishment, including painting the exterior and interior of your existing or replacement timber window frames. Our team are highly-skilled and take many steps to prepare any exterior or interior wood for painting. Those who have sash or box frame windows will already know how important it is to keep your window frames painted regularly. This ongoing maintenance will help protect your sash and box frame windows from the harsh winter elements, and our team offer a large range of stains and paint finishes that will put a beautiful finishing touch to the appearance of your newly restored windows. Sash Heritage Restoration know that much of the final quality of paint finish depends on the quality of the surface to begin with.
This level of quality means that we use only the very best materials; 100-year-old, air-dried timber and the world-class, Dryflex filling system. Our team then fully prepare the surfaces for painting following a number of steps that ensure that the wood is as primed for painting as possible. The professional finish obtained is testament to all our teams' attention to detail, which is a trait all our craftsmen possess so that they strive for the most perfect end result possible. Contact our team today so that they can arrange a time to visit your home to discuss your property and the options available so that your sash or box frame windows can look their very best all year 'round.
Sash Heritage Restoration are a Sussex-based company who are highly experienced when dealing with grade-listed or conservation buildings, as well as privately-owned homes that were built in Georgian, Victorian and Edwardian eras. These buildings retain many of their original features such as doors, fireplaces and timber framed window. Please take a look at our Painting-featured page for a more details about our professional preparation and painting techniques, in addition to our gallery that highlights many of the Grade-listed buildings entrusted to our teams' expertise. 
Window Repair and Replacement
As an owner of a period property, you may be very familiar with the difficulties original features may require so that your home can look its most stunning. Whether the upkeep of your period home's exterior appearance, fireplaces and other fixtures and features the maintenance of your home's original multi-panelled, timber sash or box frame windows can be an ongoing headache for many who do not seek or carry out the correct, specialist advice from experts in these slightly more niche trades. Sash Heritage Restoration exist to provide this specific service, and our team can be on hand at times to suit your busy lives.
Our team know that you may only too familiar with issues such as draughts and noisy rattling, lack of noise insulation that can affect excess sound escaping inside (and out!). The poor maintenance of original sash windows can also mean mechanical deficiencies, such as sticking and improper weight and sash cord movements. These problems may get worse over time if nothing is addressed, and in severe cases, lack of management can prompt the need for replacement instead of simple repairs.
Sash Heritage Restorations can offer refinishing and painting as part of their all-round service, which can prevent exposure to the temperamental British weather. All our paint is guaranteed for a minimum of ten years. An adequately prepared paint-job can prevent your original timber from rotting and warping, while keeping the appearance of your sash and box frame windows looking as good as they were first intended.
For those home-owners that do not need to comply with the regulations associated with grades 1 and 2-listed buildings, the ongoing frustrations of these types of windows can sometimes lead to bad decisions with regards to how to move forward with window maintenance. Other, less specialist double-glazing companies may sometimes advise home owners of period homes to replace their original feature timber-framed sash windows with double glazed uPVC alternatives.
Apart from this being a very costly alternative in the first instance, and while there are improved finishes to the plastic-y appearances of uPVC in recent years, much of the classic beauty of your original timber sash window frames will be instantly lost, never to be enjoyed again. This is, in our industry, known as 'plastic surgery', and is names as such due to the replacement of original features with a uPVC compound, and is often carried out by frustrated and desperate homeowners who feel like they have little option but this type of 'quick fix'. The irony of this is, apart from losing the beauty of your original timber frames, low-maintenance uPVC doors and windows aren't without their own sets of problems with regards to locking mechanisms.
Window replacement companies that only offer uPVC frames often mislead prospective customers with commonplace perceptions about uPVC as a 'cure-all' material, and while it may be an effective window material on modern buildings, we aim to inform our customers of the less positive implications of this material – not to mention the regret many period home-owners feel when they decide to replace their frames with uPVC.
While the benefits of this material are long-lasting, the charm and beauty of timber cannot be surpassed. Sash Heritage Restoration are dedicated to keeping your existing timber sash window frames of the Sussex area looking their most beautiful and best. 
Sash Window Repairs From the Experts
Sash Heritage Restoration are the Sussex area's leading sash window restoration and repair team. They are able to carry out local repairs at a time to suit you and your family's busy schedule with the least amount of upset, untidiness and inconvenience. Our team pride themselves on an all-round service that means we will gladly advise you on your homes period windows no matter how large or small the job. Many of our customers remain with us for many years, and we want to help you create show-stopping, beautiful windows that remain sympathetic to your homes original design period and style, while helping you manage aspects of modern living with the leading advances in home insulation.