Lewes: Restoration and Renovation of a 200yr Old Property
In 2013 we had been asked to help renovate this fantastic 200 year-old property, Yew Tree Cottage in Lewes, near the house of Anne Boleyn. This consisted of eight windows that needed complete restoration, as the property was so old. The windows were in such a bad way that most people would have asked for new windows, but as we have said before – with a lot of care and the touch of experienced carpenters we were able to restore these precious historic windows – fantastic examples of a bygone age – back to their former glory.
We specialize in restoring and refurbishing sash windows in Listed period properties, to their original antique beauty, saving our valuable Heritage. We do not replace sash windows with kiln dried wooden sashes; new sash windows rot very quickly because of the way that the timber has been dried and certain parts of the timber have a different shrinkage rate to other parts in the same piece of timber compared to air dried timber (seasoned) these are called shakes and will allow water ingress – and ROT will set in.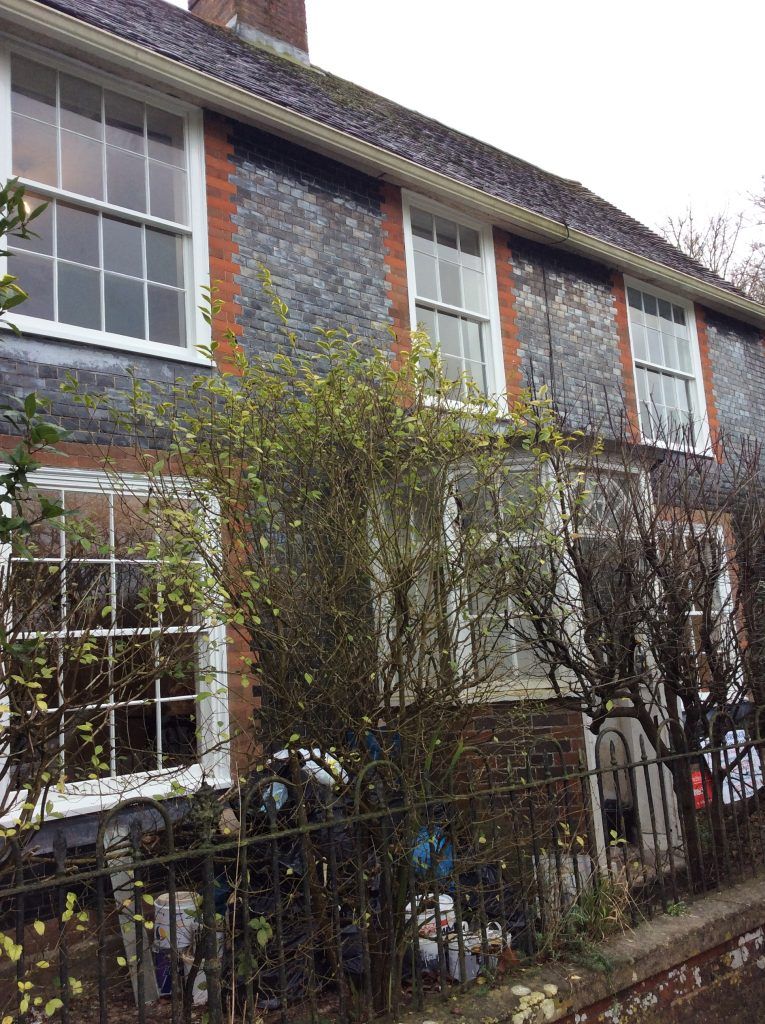 Even the new modern proven and tested exterior paints do not last as long, resulting in costly future maintenance bills and hassle. New will not always look new!
We have yet to come across an original sash window that we cannot save, restore and refurbish back to its original antique charm.
When the full restoration has been completed not only will the interior and exterior of your property retain that attractive period look, they will function even better than when they were originally built and installed.
One of the main reasons for this is that we strip up to 100% of all the old paint work on all areas completely, back to bare wood, before refitting the sashes. Because of our extensive preparation we carry out and the quality proven exterior paints we use, it will be many years before redecoration is needed and future maintenance will be inexpensive and easy. We treat sash windows as a piece of art; restoring them is a skilled craft that needs fine attention and qualified craftsmen to give back the antique charm and Heritage look to your property – that lasts.
Sash Heritage Restoration are highly recommended Checkatrade Approved professional sash window repairers, renovation and restoration experts. Unlike our competitors we do not sub contract our work to other people and only have a trusted team to work on our projects. We are also fitters of draught excluders in Brighton, Hove, Lewes, Eastbourne, Shoreham, Lancing, Haywards Heath, Burgess Hill, Worthing, Chichester, East Sussex, West Sussex, Sussex, Kent and Surrey.