Ansty, Sash Window Restoration & Renovation, West Sussex
Sash Window Restoration can be very costly due to the fact that other companies tell the customer that they must have new sash windows made even when a small amount of rot is found. It is true that all normal types of exterior fillers will not last, which is why we have been using the Dryflex Woodcare System for more than twenty years. Dryflex is a proven product and is a permanent fix. We believe that we can save almost any sash window using the Dryflex System and dedicated qualified carpenters to make the sash window repairs on site.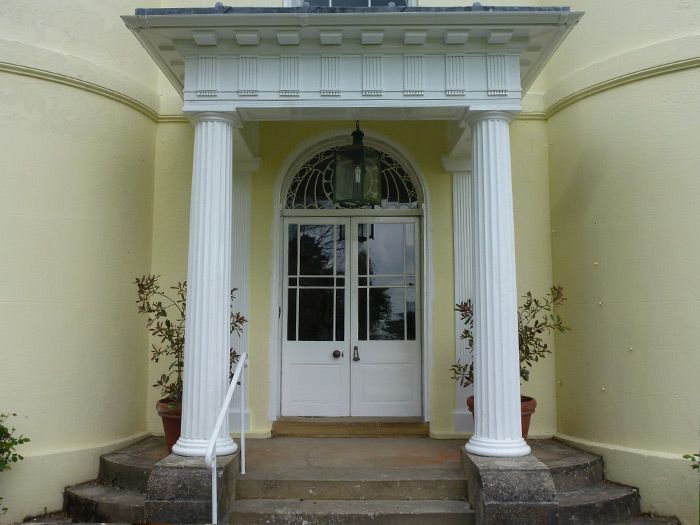 Ansty Sash Window Refurbishment and Restoration West Sussex
The job was completed in 2013 in Ansty, West Sussex. The building is nearly 200 years old; there are beautiful features with bow bay sash windows and lovely ornate doors. All the paint was removed back to the bare wood and a complete paint finish inside and out using modern flexible long lasting paints. New draught excluders were fitted to the sash windows and the doors, also sash cords, pulleys, furniture and all the sash window weights were checked then finally security locks fitted and the glass cleaned inside and out. We discovered that all the sash windows were painted shut, so you can imagine how much rotten wood was found, as well as rendering useless the perfectly designed natural ventilation system which these window provide. We have explained other companies would have replaced them, costing thousands of pounds, but we saved them all using the wood care system and expert carpentry skills. This is a grade 2 listed building so everything had to be as originally made, so here for you to view are a few of the bowed and flat sash windows that we restored on the property.
Sash Heritage Restoration are highly recommended professional sash window restoration, repairs, renovation, and fitted draught excluders. We are experts in sash window restoration and Checkatrade approved in Brighton, Hove, Lewes, Eastbourne, Shoreham, Lancing, Haywards Heath, Burgess Hill, Worthing, Chichester, East Sussex, West Sussex and Sussex.